Social Contribution

Create fortunes for societyZRCC has realized accumulated profits and taxes of 356.8 billion RMB since its foundation 46 years ago. Moreover, the annual taxes of ZRCC exceeded 10 billion RMB for consecutive 12 years. According to the current revenue sharing ratio between central and local governments, the local governments gained more than 52.4 billion RMB. Especially in recent years, ZRCC contributed more than 3 billion RMB tax annually to local governments, and has been ranking the first of Ningbo top 50 taxpayers for consecutive 11 years by 2019.

Blood donation for love As an institutional volunteer of non-remunerative blood donor in Ningbo, ZRCC organizes 3-4 times of blood donation in every February to March. Since 1997, ZRCC organized nearly 12000 people to participate in voluntary blood donation, with a total blood donation of 2.94 million milliliters, equivalent to the whole blood volume of 735 adults. Since 2004, ZRCC started to promote to donate blood 400 mL once. Currently, the ratio of persons who donate 400 mL blood once reaches over 99%. ZRCC started to organize employees to donate blood component since 2006, organized 18 batch persons (379 person-times) successfully donating blood platelet. ZRCC organized employees to take part in Red Cross activity and become donors of hematopoietic stem cells since 2007. All together 240 employees became voluntary donors of hematopoietic stem cells by now. Fu Haibo successfully donated hematopoietic stem cells on March 30, 2010, the fiftieth of such in Zhejiang province, also the first in Zhenhai district. Chen Zhimin also successfully donated hematopoietic stem cells on Sep. 29, 2017. ZRCC was awarded Zhejiang Blood Donation Promotion Prize for many times and won National Blood Donation Promotion Prize in 2015.

Actively construct ecological enterpriseZRCC adheres to push forward ecological enterprise construction whit its development. Over the past 40 years, in combination with the construction of shelterbelts and afforestation on barren beaches, nearly 280,000 people of ZRCC have participated in the voluntary tree-planting, with a total planting of 410,000 trees and a planting area of nearly 36 hectares. ZRCC is one of the first ten enterprises committed in Sinopec's "Green Enterprise Initiative", and was certified as Sinopec's first batch green enterprises in January 2019.

Focus on targeted poverty alleviation, propel the moderate prosperityIn the three-year campaign to win the national targeted poverty elimination, ZRCC has donated more than 10 million RMB to the poverty-stricken and economically-weak villages in Guizhou, Tibet and Zhejiang, involving more than 10 projects such as agricultural products, infrastructure, education etc., and sent cadres to the villages for poverty alleviation, to bring new ideas to the development of mountain villages, and help the economy of mountain villages transform from "transfusion", "hematopoiesis" to "circulating hematopoiesis".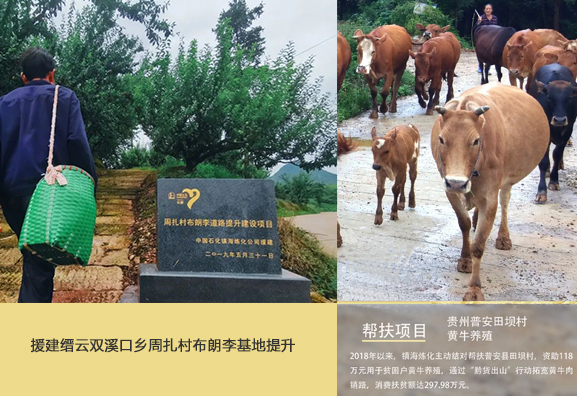 ​​​​