Histroy & Development
From a small-scale local refinery at the very beginning to the largest integrated refining & chemical company of China, the development of ZRCC can be summarized as the following 5 stages::
Stage 1 (Arduous Pioneering Period) During 1975 to 1987, We had completed Phase I Refining and the Fertilizer Project with 2.5 million tpa refining capacity and 520,000 tpa urea production capacity.

Stage 2 (Reform Period)During 1988 to 1993, we grasped the opportunity and initiated the operating mode of using domestic and overseas resources and expanding the domestic and overseas markets. We had completed Phase II Refining with the refining capacity expanded to 5.5 million tpa, ranking No. 1 in Hangzhou Bay area, which was a critical step to the future development and expansion of our company.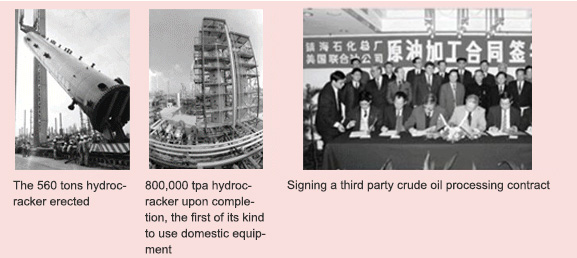 Stage 3 (Financing & Developing Period)During 1994 to 2000, with the fund raised by listing in Stock Exchange of Hong Kong Limited, we completed the revamp project of 7milion tpa refinery. Then with the USD 0.2 billion convertible bond and our accumulated fund, we completed the construction of the main process units of 8 million tpa refinery expansion project, making us the first refinery hitting the 10 million tpa. At the same time, the fertilizer production capacity was expanded to over 600,000 tpa.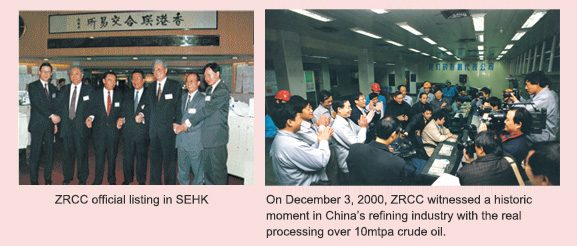 Stage 4 (Improving Period)During 2001 to 2006, we expanded the comprehensive crude oil processing capacity from 12 mtpa to 18.5 mtpa through debottlenecking and gradually extended to downstream chemical industry. At the meantime, the preparation work for the ethylene project was undergoing.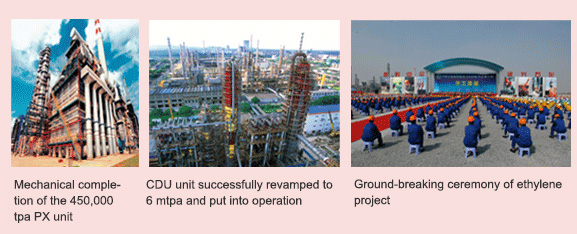 Stage 5 (Transforming Period)From 2006 to date, we constructed the 1 mtpa ethylene plant, completed the revamp of 23 mtpa refinery and closed down the urea unit. Meanwhile, we strived to deep the reform and restructuring to transform the company from a traditional refinery to an integrated refining & chemical company. At present, we are accelerating the upgrading of the old refinery through restructuring and propelling the further transformation to fine chemical industry.

 ​​​